Curation
Main Content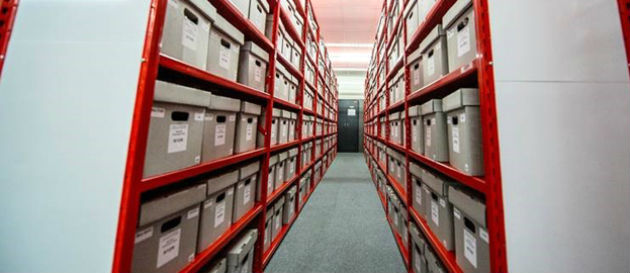 The Curation Program is an integral component of the CAI that encompasses multiple aspects of the Center's mission, including collections management, research, student education and training, and public outreach. The cultural materials and associated documentation generated by archaeological fieldwork and laboratory analyses are irreplaceable records of the past, and as such must be cared for properly to ensure they continue to be important resources for researchers, educators, and society for many years to come.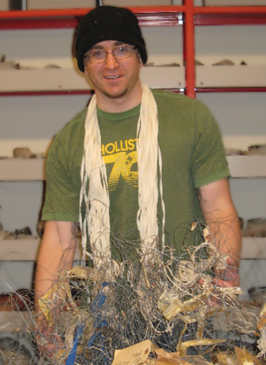 The CAI currently curates archaeological collections from the American Midwest and Southwest on behalf of SIU, Illinois state agencies, the US federal government, and federally-recognized Native American tribes.  Curation involves a wide range of activities associated with the long-term care and management of collections. The CAI currently curates approximately 9,100 standard letter-size archival storage boxes of artifacts and non-cultural materials and more than 850 linear ft. of associated documentation, primarily from archaeological sites located in the Midwestern and Southwestern United States and some from Micronesia.
The CAI curation facility consists of a 13,000 sq. ft. building acquired in 1995 that has essential ventilation, fire, and security systems. Storage space along with metal shelving units and locking cabinets totals approximately 11,000 linear feet. The building contains two areas designated exclusively for the purpose of housing sensitive collections such as human skeletal remains and funerary and sacred objects.
The CAI Curator currently supervises 1 grant-funded administrative professional staff term appointment person and one graduate assistant (GA) assigned to the curation center. Additional staff are hired as needed as extra help or student workers using funding from external grant projects.
The CAI curator has primary responsibility for assuring university compliance with the 1990 Native American Graves Repatriation Act (NAGPRA) and "Curation of Federally-Owned and Administered Archaeological Collections" (36 CFR Part 79). Although the CAI has completed a NAGPRA inventory of its collections, rehabilitation of several major collections has resulted in the discovery of several thousand additional human remains that will be needed to included in an addendum to the CAI's NAGPRA Inventory previously submitted to the National Park Service.
The CAI curator also has responsibility for supervising two ongoing major artifact rehabilitation projects funded by the Shawnee National Forest and Peabody Energy  (Carrier Mills and Black Mesa). Since 2008 the Curation Program has received approximately 1 million in grant funding to rehabilitate these and other collections.
The Shawnee National Forest collection consists of over 1,000 boxes of artifacts generated by archaeological projects dating back to the 1950s. The majority of this collection was housed in project bags that needed to be transferred to archival-quality bags to ensure their long-term preservation. The CAI is currently engaged in searching this collection for unreported human remains and objects of cultural patrimony. This project is ongoing and similar to the Black Mesa project forms a major part of the curator's job responsibilities.
The CAI professionally curates under an agreement with the Hopi Tribe and Navajo Nation over 1 million artifacts generated by the Black Mesa Archaeological Project (BMAP) (1967-1983) that involved the excavation of more than 200 sites on lands leased from these two groups. The collection is massive, consisting of over 4,100 boxes of artifacts and records generated by this project. Since 2008, using funding provided by Peabody Energy, the CAI has been searching this collection for additional human remains and sacred objects; transferring all artifacts and non-cultural materials from brown paper bags into archival-stable bags; and digitizing projects and other records. This project is ongoing and forms a major part of the curator's job responsibilities.
COURSES AND INTERNSHIP OPPORTUNITIES 
Interested in gaining hands-on experience working with archaeological collections? The CAI offers courses and internships to motivated undergraduate and graduate students that provide practical training in collections care and organization, and allow students to design individual projects. To inquire about a course or internship, please contact the CAI Curator.