Black Mesa Collections Rehabilitation
Main Content
The Black Mesa Archaeological Project (BMAP) is one of the largest, longest running projects in the history of North American archaeology. Fieldwork spanned 17 years (from 1967 to 1983) and at its peak employed more than 200 persons in a single summer. Nearly 2,500 archaeological sites were identified, and more than 200 sites excavated, on the 256 km2 of Black Mesa, Arizona, leased from the Navajo Nation and the Hopi Tribe by Peabody Energy. Fieldwork produced several million artifacts, dating from over 8,000 years ago to historic times.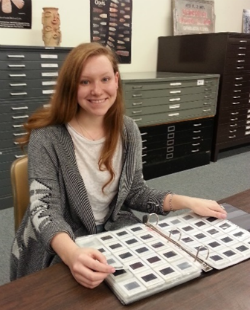 We are currently making progress on the multi-year Black Mesa Collections Rehabilitation Project. This massive undertaking is only possible through the efforts of numerous undergraduate students, graduate assistants, faculty, and staff. As a part of this rehabilitation effort, artifacts and samples are rehoused in archival quality storage. We have recently begun to preserve and rehabilitate more than 20,000 photographs and over 15 years of documentation from the archaeological excavations. This curation project, generously funded by Peabody Energy, is carried out in collaboration with the Navajo Nation and the Hopi Tribe, in order to ensure that the BMAP collections are well cared for now and into the future.

The CAI professionally curates the BMAP collections for the aforementioned tribes in compliance with federal permits, the Navajo Nation Antiquities Permit, and the Hopi Tribe Resolution. The items themselves, however, belong to the Navajo Nation or the Hopi Tribe based on whose land each site was situated. The tribes retain authority over the materials from the BMAP collections and access to these collections is granted or denied at their discretion. Inquiries regarding the Black Mesa collections should be addressed to the Navajo Nation Historic Preservation Department and the Hopi Cultural Preservation Office.