Trail of Tears Outreach
Main Content
As part of long-term investigations on the Trail of Tears in southern Illinois, the Center for Archaeological Investigation at SIU works with state and federal agencies including the US Forestry Service and National Park Service to fund ongoing research on this important piece of Illinois history. The latest project funded by the NPS is scheduled to commence during the fall 2015.
This stage of research will include detailed mapping and ground-truthing of the entire Trail of Tears southern Illinois segment, and the nomination of important sites for the National Register of Historic Places (a program of the National Park Service) in Illinois.  As part of our ongoing efforts to reach the local community, the CAI works closely with local agencies including the Illinois Chapter of the Trail of Tears Association, and members of the community.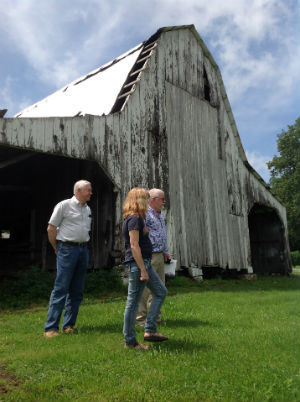 Steve and Lisa Thompson (who now own the Bridges site property), and TOTA board members Gary Hacker and Kayeleigh Sharp recently met with Dr. Mark Wagner, director of the Center for Archaeological Investigations at SIU, to discuss this important site's upcoming nomination for the National Register of Historic Places (a program of the National Park Service) in Illinois.  Among other structures, some of which are yet to be discovered, the Bridges site consists of the archaeological remains of the early to mid-nineteenth century one-room log structure called the Wayside Store.  Oral histories collected in the 1930s and later stated that the Cherokee traveling along the Trail of Tears stopped here while journeying through southern Illinois in 1837-1839. 

Investigations by the CAI were initially carried out to determine if the structure indeed could date to the Trail of Tears period.  Archival research conducted at the Johnson County Courthouse revealed that the Bridges family were present at the site as early as 1818.  The store ceased operation in 1870 upon the death of Elizabeth (Bridges) Newton with its contents sold at auction.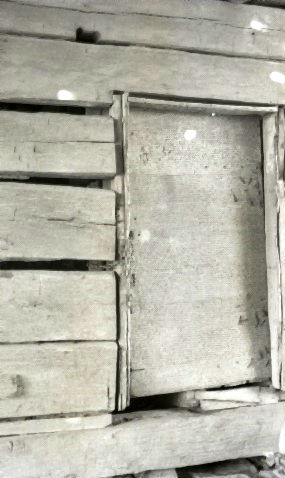 Architectural documentation of the Wayside Store confirmed that it is a hand-hewn log outbuilding, and not a residence associated with the Upper South log building architectural tradition.  The presence of pre-1880 nails in the door and window jambs suggested that the Wayside Store was constructed prior to this date, which is in agreement with the archival information found at the Johnson County Courthouse.
Archaeological investigations conducted around the structure recovered artifacts dating from the early 19th century through the late 20th century. 
These combined lines of evidence indicate a strong likelihood that the Wayside store does indeed date to the Trail of Tears (1837-1839) period, making one of the few known structures that remain along the trail in southern Illinois, and an excellent candidate for nomination to the National Register of Historic Places in Illinois.