Mound City Naval Base
Main Content
Civil War Research: Mound City Naval Base – 2013
The CAI is currently creating a GIS database for the U.S. naval base (1862–1872) at Mound City, Illinois, on the Ohio River. Established in 1862, the naval base was the home of the U.S. Mississippi River Squadron.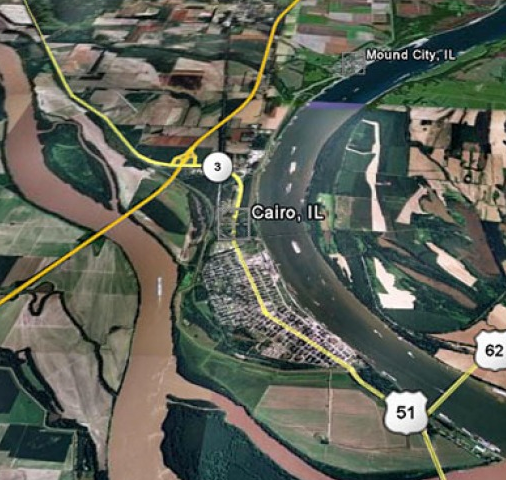 Location Mound City and Cairo, Illinois, at the confluence of the Ohio and Mississippi Rivers.
Comprised of over 200 ironclads, timberclads, hospital ships, transports, and other vessels, Mississippi River Squadron, under the commands of Commodore Foote and Admiral David Dixon Porter, was instrumental in breaking the Confederate stranglehold on the Mississippi, Tennessee, and Cumberland Rivers.

The Mississippi River Squadron off Mound City, with Admiral Porter's flagship Blackhawk (far left) in the lead.
The boats of the Mississippi River Squadron fought in a number of the most famous engagements in the west, including the battles of Belmont, Ft. Donelson, Ft. Henry, Island No. 10, and Vicksburg.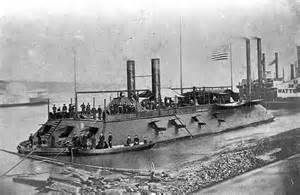 The ironclad USS Cairo, which was constructed at Mound City.
The naval base itself consisted of a shipyard or marine ways, foundry, marine barracks, supply offices, hospital, and other facilities. All of these structures, with the exception of the marine ways, have long since vanished. Using a series of Civil War and later maps, photographs, charts, and other documents, Ph.D. student Go Matsumoto (CAI, SIU Anthropology Department) has constructed a GIS database for Mound City that identifies the locations of the naval yard and other Civil War–era facilities as well as a now-vanished very large prehistoric mound that gave Mound City its name.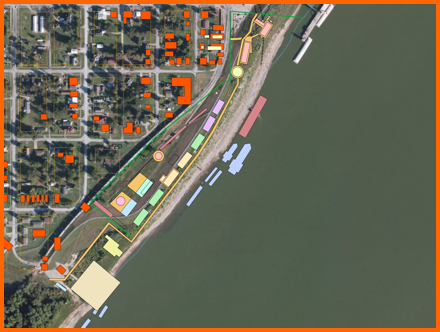 GIS overlay of Mound City showing locations of Civil War–era buildings (red), 
naval yard facilities (light colored blocks on shore), and mooring stations 
of Civil War vessels in the Ohio River (light colored blocks in water).
Through the construction of this database, we were able to identify several areas of the naval base that could potentially be investigated through archaeology. We also were able to identify the mooring station of Admiral Porter's flagship, the Blackhawk, which accidentally burned during the last week of the war while anchored at Mound City. We are hopeful that Go's study will be a first step in the further investigation of this nationally important Civil War site.
Planned Tasks
1. Look for available resources (e.g., paper maps, air photos, and satellite images)
2. Choose one of them as the base map
3. Scan, georeference, and superimpose all of the map data over the base map in a GIS database
Complications:
1. None of our old paper maps have necessary information (e.g., x-y coordinate values, datum, and coordinate system).
Mound City GIS database protocol.